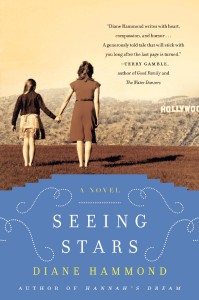 When I was asked to read
Diane Hammond's
latest novel,
Seeing Stars
, for the
TLC Virtual Book Tour,
I jumped at the chance for a couple reasons.
First, I had
read and reviewed
another of
Hammond
's novels,
Hannah's Dream
, and had really enjoyed it.
Second, when I was a kid, I wanted to be an actress, move to
Hollywood
and make it HUGE.
Well, that's what this book is all about.
Bethany Rabinowitz is a thirteen year old girl from Seattle who has talent. Her mother, Ruth, has picked up, left her home and husband behind, and moved with Bethany to LA in order to follow Bethany's dreams of making it in Hollywood.
The young actress goes through harrowing auditions where the casting agents don't really care about anyone but the right one for the part. It certainly proves that you need to have some major thick skin in order to make it in this business!
Bethany is one of the lucky ones, though. You meet some characters in the book, for instance Quinn and Allison, who have been basically abandoned by their families due to new relationships or other family circumstances. These two are left to fight through the process all on their own (or with the help of their manager, Mimi), and it's definitely hard to read about the struggles. You want so much for these kids, you want them to get the perfect role and make it big, but the reality is there are hundreds of kids who want the same part. It made me sad when the role wasn't given to one of the main characters, but I guess that means I connected with them, right?
While Bethany and Ruth are the stars of this novel, there are some interesting and engaging side stories. You read about Quinn and his struggles with living alone in LA, Allison and the relationship she forms with Mimi, and also another mother and daughter pair, Angie and Laurel, who push for Laurel's success harder than anyone due to some very personal reasons.
All in all, I really enjoyed this book. It felt very real and believable, and I just kept wanting the best for those kids. It's all about finding your dream and doing what you can to make it come true! I highly recommend this novel to…well, anyone!!
Thanks to Trish at TLC Virtual Book Tours for sending me a copy of this book for review!!!